Effects of Endurance Running in Pre-teens
Posted by Anthony Luke MD, MPH on February 26, 2013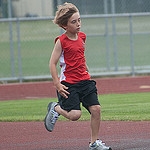 The Starting Line:
Should pre-teen athletes run endurance events?
Recent debate has flared over what age is appropriate for children to start participating in marathons and half-marathons. In the past, runners had to be 18 years old, but now most races allow younger athletes to participate. So far these younger runners seem to have participated without abnormal health risks, but some argue that it is better to be safe than sorry. Should such young runners participate at long distances? A recent msnbc story highlights the controversy, focusing on two young sisters age 10 and 12 who run long trail races.
Some experts express concerns about growth related issues, hormonal issues, and psychological issues like burnout - especially considering the heavy training that is often necessary for racing such long distances. These critics cite statistics suggesting that as the number of young runners increases, so does the number of injuries in this age group.
The possible health risks of running long distances at a young age have not been clearly identified by research. A study of the Twin Cities marathon found that only 4 of the 310 participants of ages 7 to 17 needed medical attention after the race. Another study of 50 runners age 13 -17 showed no adverse changes in electrolyte and blood levels after running a marathon. Additionally, experts note that in some African countries it is common for children to run many miles to school every day.
Finish line:
Current scientific understanding indicates that it is probably not detrimental for younger runners to participate in endurance events, although more research is necessary to be certain. As with every athlete, it is important for the runners (and their families) to be clear about the motivation for their training, especially considering the required level of commitment and possibility for injury.
---
References:
1. How far is too far for tween endurance runners? Aired on February 09, 2013, msnbc news. http://video.msnbc.msn.com/rock-center/50751241
2. Mehl AJ, Nelson NG, McKenzie LB. Running-related injuries in school-age children and adolescents treated in emergency departments from 1994 through 2007. Clin Pediatr (Phila). 2011 Feb;50(2):126-32. doi: 10.1177/0009922810384719. Epub 2010 Oct 20. http://www.ncbi.nlm.nih.gov/pubmed/20965875
3. Roberts WO, Nicholson WG. Youth marathon runners and race day medical risk over 26 years. Clin J Sport Med. 2010 Jul;20(4):318-21. doi: 10.1097/JSM.0b013e3181e6301d. http://www.ncbi.nlm.nih.gov/pubmed/20606519
4. Traiperm N, Gatterer H, Burtscher M. Plasma Electrolyte and Haematological Changes after Marathon Running in Adolescents. Med Sci Sports Exerc. 2012 Dec 27. [Epub ahead of print] http://www.ncbi.nlm.nih.gov/pubmed/23274613
Photo Credit: Meredith Bell via photopin cc
---
*Note: This general information is not intended to be a substitute for medical treatment or advice. Always consult a professional before making changes to your health and wellness practices.
Feedback or suggestions for future topics? Let us know!
Comments
View Posts by Category

Ready to take the next step?
Maximize your running potential.
Join RunSafe