Event Recap: UCSF Gait Analysis for Amputee Athletes
Posted by The RunSafe Team on November 15, 2012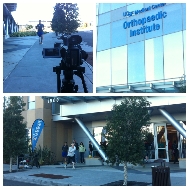 This past weekend, UCSF, Ossur Prosthetics, and Challenged Athlete Foundation joined forces to present the Amputee Comprehensive Training Program. Nearly 60 athletic amputees were present for the event, where they trained up in a variety of fun activities including running, prosthetic fitting, swimming, and rock climbing.
The RunSafe team was excited to be a part of this great event. For the whole afternoon, a stream of eager athletes came into the UCSF Human Performance Center to have their running gait analyzed. This gait analysis was unlike any we had seen before. Since the treadmill was wisely considered too problematic for many of the amputee runners to use, we set up the cameras outside on the sidewalk instead! The athletes themselves were each unique. Every runner had a clearly different and interesting strategy for how to manage running with their prosthetic. With such a variety of runners - and legs! - it was a great learning experience for the runners and the RunSafe team.
For many of the amputees, this was the first time they had ever run with their prosthetic legs! Being present for such a special moment in the lives of motivated athletes was thrilling. Thank you to everyone who participated in this event!
---
*Note: This general information is not intended to be a substitute for medical treatment or advice. Always consult a professional before making changes to your health and wellness practices.
Feedback or suggestions for future topics? Let us know!
Comments
View Posts by Category

Ready to take the next step?
Maximize your running potential.
Join RunSafe